Mobile phones have just been made more awesome by several apps that can be downloaded on them. Apps can range from a camera app to a very entertaining casino game where you don't only have fun; you get to win as well. So, to those who seek new excitement on their phones, Dragon Fortune on mobile is a very perfect app for your phone. Enjoy the action of the game while getting more and more chances of winning.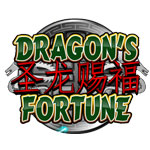 Unique Game Inspiration And Mechanics
At first glance, you would know that the game's theme is Chinese-inspired. The game has been well-developed and has crystal clear graphics and display to maximize player experience. The objective of Dragon Fortune on mobile is to match as many pearls as possible out of your standard six-pearl game. As soon as you place your bet and press "Play", a dragon breathes out six breaths of fire and each one of them turns into a pearl. Each pearl has a specific color and a Chinese symbol. You will use its color and symbol to match to a table that will indicate the multipliers of your winnings.
How Do You Win It
The pearls smash into a gong, bounce off it and then arrange into a row. Below that row is a table with different colors of pearls and Chinese symbols. You need to get at least two matches between your pearls and the pearls on this table to win. Each pearl on the table also has a corresponding multiplier. So, when you get a match, the amount of your bet will be multiplied according to the number indicated on the table.
Multiply Your Bets Up To 20,000 Times
And you do not only get one multiplier, but two of them! See your winnings multiply twice, five times, a hundred times and even 20,000 times. Again, payouts will depend on the number of pearls that match and you get to have six chances of multiplying your wins with every game. Although you have to remember, to be able to get a successful match, pearls need to have the same symbol and color as the ones on the table below the row.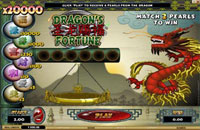 Much Fun and Thrill With Every Game
Winning in online and mobile casino games is just as easy as that. There are no strategies involved in this game; it's just pure luck. Playing Dragon Fortune on mobile is all in the spirit of fun. Watching its simple yet thrilling action on the screen of your phones is enough to amuse anyone who's bored or those addicted to the game already. You get to amuse yourself, but you also get more than just amusement in return. Playing this earns you a great deal of money that can be cashed out. No one pays you a good deal of money for amusement these days. But online casino games sure know how to amuse you and win you some money.
Click Here to play Dragons Fortune now. And receive a $/€/£5 Free No Deposit Bonus!
Play on your mobile
Just hold your phone at the image to get the link to All Slots Casino on your mobile.