Now, there is no need to be on an actual race track to enjoy horse racing. Instead, all we have to do is have Royal Derby on mobile phones and all is set to play in the virtual horse track. We can choose to be really scientific about it by studying every contending horse and jockey. Or, we could just enjoy the game and pick out any random horse that we want. The versatility of the game is just endless depending on our preferences.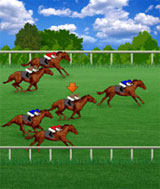 How Each Game Is Played
The mechanics of the game works just like the actual horse race. First, you will have to examine each horse. You need to obtain as much information about the horses as you could, so you will be able to choose a horse that will increase the odds of winning a race. With the Royal Derby on mobile, each race showcases six horses to choose from. Players will get to see the lineup of the horses and the jockeys with some information about the horse especially the odds of winning for each horse, the condition of the race track and the weather.
A second screen will appear when you click on a horse. This second screen contains detailed information about the horse, including its strengths and weaknesses. They also contain the horse's performance history when made to race in different kinds of track and weather conditions. When players have reviewed each choice, they can place their bet on the horse they think would give them the most returns.
Placing A Bet On A Horse
When you place your bet, you will first have to decide on the amount of your bet, or your stake. Once you've covered that, you will have to decide on the type of bet you will be placing. Betting "To Win" earns you a full payout if the horse that you have chosen wins the race. But if you bet on "Each Way" you will be creating a combination Win and Place bet. This means, if your horse wins, you get to receive a full payout and if your horse does not win, but garners a place in the race, you will receive a smaller payout. After selecting both stake and bet type, you can go on and bet on another horse or start the horse race right away.
Pure Horse Racing Excitement
With this mobile version of the game, you get to feel the same excitement that you would feel when you were in an actual race track watching the horses you have bet on race with other horses. The best part of it is you see the action on Royal Derby on mobile in a small screen in front of you. What makes it more exciting is it is very unpredictable. No two games of this game will be alike so there is really no guarantee that a strong contender will win each race.
Click Here to play Royal Derby now. And receive a $/€5 Free No Deposit Bonus!
Play on your mobile
Just hold your phone at the image to get the link to All Slots Casino on your mobile.