Standard Jackpots
When most people think of winning a jackpot, the first thing that comes to mind is the loud and glitzy slot machines that are found in casinos around the world. A mobile jackpot is a real possibility, however, and earning one is not as difficult as it may seem.
Of the jackpot types offered by mobile casinos, standard jackpots are the most common. These jackpots are a set amount of money—usually relatively large—that a player can win by fulfilling certain conditions. Games like slots and video poker are usually the main types to offer jackpots of any kind, but the payout for winning on a single-number bet in roulette can be quite staggering as well. Those who are lucky enough to find mobile Slot and Keno games can win huge amounts of money, but the odds of doing so are comparable to winning a state lottery. Jackpots are the essence of casino games, and without them, the level of excitement these games provide would drop drastically.

Progressive Jackpots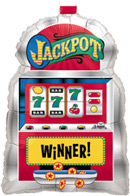 Progressive jackpots are the most coveted anywhere in the world of gambling. These can be single-player progressive or network progressive jackpots. A single-player progressive mobile jackpot is one in which a player is given the opportunity to win back any amount of money wagered on a single game in a single hit. Network-wide progressive jackpots give players a chance to win jaw-dropping amounts of money, because these jackpot types take into consideration all of the money wagered in certain games by players all over the network. Major software developers like Microgaming and PlayTech are the most famous for networking together some of the biggest progressive jackpots ever seen.
Mobile Slots
Slots is a game that is notorious for offering some huge jackpots, and slots games that are available for download to mobile devices are no different. Just like in the casino, players can determine how much to bet, how many paylines to wager on, and spin. If the player is able to meet the requirements of the jackpot for mobile phones, they win! Although the celebration may not be as public, the feeling of extra cash in the bank is quite the same. All of the leading mobile casinos offer one or more slots variations that provide some relatively large jackpots; some are even considered life-changing. The largest slots jackpots available give players the opportunity to win hundreds of thousands of dollars.
Video Poker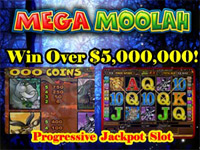 Video poker provides another great opportunity for players to win big since the progressive jackpots offered on most games can be won at random and at any time. The goal of video poker is to create the strongest poker hand available from the cards dealt, but in some cases players are not required to do anything at all for the progressive jackpot to be won. The standard jackpot in the game of video poker can be won if a player bets the maximum on any given hand and manages to come out with the elusive royal flush; games that offer wild cards are often the best options for this, although the pay scale is adjusted to account for the change in odds. The thrill of the possibility of winning a jackpot is what drives so many people to play casino games in the first place. The mobile jackpot has the same purpose—to bring that thrill to those who choose to play casino games on their mobile devices such as Android, iPhone, Blackberry, or tablets like iPad and iPods.
Play Mega Moolah Progressive Slot on your mobile phone. Receive $/€5 FREE without a deposit!