Getting Started
More and more online casinos are expanding their accessibility by offering mobile apps for iPhones, as well as BlackBerry and Android devices. Mobile roulette makes it possible to enjoy one of the world's most beloved casino games from anywhere, even on the go. There are also dozens of mobile casinos emerging that offer the fun and excitement of the casino from the convenience of the player's cell phone.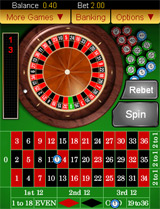 Roulette is a staple in any casino so it isn't difficult to find a mobile app that offers the game. There are several variations available so it is important for players to find the game that best suits their playing style. Individuals who already have an account with an online casino should check to see if the website offers an app for mobile access. Cell phone users who don't play casino games on their computers can find casinos that are designed specifically for mobile browsers, often featuring a selection of favorites including roulette, blackjack, and more.
Downloadable Roulette Games vs. Online Play
Much like gameplay in an online casino, mobile gambling games can be played online using the phone's data connection, or the game may be downloaded to the cell phone and played offline. Regardless of the preferred method of play, an application is typically downloaded and installed on the phone for easy access. Downloadable games often require more memory, but are ideal for players with limited data plans. Playing online usually provides a more realistic casino experience and typically offers a broader selection of games without additional downloads.
Free Gameplay vs. Real Money
Also similar to online game options, mobile roulette players can choose from both free and paid versions to play on their phone. Free roulette games are a great way for beginners to get a feel for the game. More experienced players often use free games to practice new betting strategies. Free versions are also a fun way to relax and pass the time. Players who are comfortable with their success at the free roulette wheel can try their luck with real money. Most mobile casino apps make it easy to make deposits, play games, and collect winnings directly from their phone.
About Roulette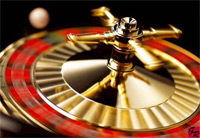 Originating in Paris in the late 1700s, roulette is played by spinning a numbered wheel in one direction as a small ball is spun onto the wheel in the opposite direction. The object of the game is to correctly guess which numbered pocket the ball will stop in. To increase the chances of winning, players can bet on a single number or a selection of numbers such as red or even. Roulette games designed for cell phones follow the same rules as live casinos and generally feature colorful animations and sounds to simulate the environment of a brick-and-mortar casino.
Even when they are on the go, with mobile roulette, players can always get in a quick game. From free play with a downloaded casino game to full-action mobile gambling apps, individuals can have their favorite games at their fingertips whether they are at home or waiting for the dentist.
Click Here to Play Roulette on your Mobile Now. And Receive €/$5 Free No Deposit Bonus.