Major Millions on Mobile
Slot machines are a lot of fun and thanks to technology, we don't have to wait in line to be able to play, or sit in front of our computers. Now, everyone can enjoy playing casino games like mobile Major Millions within the palm of their hand. With its easy flow format, it's hard not to love the game. It also gives out one of the biggest jackpots among other mobile casino games.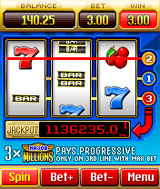 Basics of the Game
This handy version of a slot machine game features Major Millions, a military guy, whose duty is to bring you winnings with every game that you play. Basically, Major Millions on mobile is a 3-reel, 3-payline slot machine and is operable when you put in at least one coin. One coin is equivalent to one credit, or a unit of whatever currency you use in your casino account. With every coin wagered, an additional payline is added. Players can wager up to three coins, which opens the third payline.
How Do You Win It?
Speaking of the third payline, one has to choose to open the third payline to get a chance to win the biggest prize of all. Winning is quite easy with this very simple game. When you get a single cherry, you already get to win two coins. If you get three, you will win 15 coins, and when you get three red 7s, you get 400 coins in return. But the big money comes when you get all three Major Millions symbols. When you wager one coin, you will be able to open your first payline and when you have all three symbols, you will be able to win 25,000 coins. If you open the second payline and get the three symbols, you will win 50,000 coins. The biggest prize comes when you open the third payline and get all three symbols. That means you have just won its progressive jackpot!
Really Huge Prizes At Stake
That's why this game has been dubbed as having one of the biggest progressive jackpots because over time, their jackpot just keeps getting bigger and bigger. Some of the money used in the other online and mobile casinos will be added to the pot money. We're talking not just thousands worth of coins, but perhaps millions. Players just have to remember that before they can get the chance to win the progressive jackpot, they will have to unlock the third payline. The more they play the more chances they get of winning more and more coins.
Great Casino Fun And Entertainment
Not only is the game entertaining and sometimes addicting, the graphics are great and the theme they used is fun. Players find it a lot more enjoying because it is easy to operate. With its military theme, each game of Major Millions on mobile will be hard to part with when you need to put it down.
Click Here to Play Major Millions Now. And Receive €/$5 Free No Deposit Bonus.