How to Play Baccarat
Baccarat has always been a very popular game in land-based and online casinos, but mobile baccarat provides players with a brand new array of options. No longer are players confined to the casino or their computers to enjoy this game; it travels with them wherever they go.
Baccarat is a casino card game that is very similar to blackjack in that players are required to place a bet and are dealt two cards. The goal of baccarat is to accumulate a total score of eight or nine points; cards two through 10 are scored at face value, Aces count as one point, and face cards count as zero. If a player ends up with a score of 10 or more, they must subtract 10 points from their overall score. This means that players with a total card value of 17 will only actually have a hand of seven. Players bet on their own hands, the banker, or on a tie. Tie bets mean that both the player and the banker have the same score at the end of a hand, but only a player who bets on the tie wins any money.
The Development of Digital Baccarat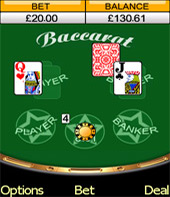 The age of personal computers completely revolutionized the way people played baccarat. Players were no longer required to gather friends in order to put together a home game or take a vacation in order to visit a casino. Instead, they could very simply purchase some computer software and turn on their computers. The internet took things a step further; now players were not even required to purchase any software. They could simply surf to their favorite casino websites and start playing with just a few simple clicks. Nowadays, smart phones are one of the hottest commodities and they have full internet access just like a home computer, and players are able to gamble anywhere they go.
Free Baccarat for Mobile Phones
There are two different types of free mobile baccarat games for smart phones: those that are free to download and play, and that require a small one-time purchase but are free to play afterward. There are baccarat applications for Android devices, iPhones, BlackBerries, and even tablets. The Android Market boasts the highest number of free casino applications when compared to its competition. Free baccarat games are the most favored way for new players to learn the basics of the game, but even experienced players take advantage of free baccarat applications on their cell phones in order to perfect new betting strategies.
Baccarat Mobile Casino Accounts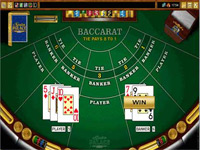 Due to the unwavering popularity of online gambling, some online casino proprietors have taken to developing mobile baccarat applications for mobile phones that are merely an extension of a player's existing online account. These downloads are usually free, and once a player has installed them, they simply log into the application using their casino website username and password. This way, they have access to all of their account information like their statistics and bankroll. Accessing user accounts from cell phones is the ultimate step in taking casino gaming mobile; players are able to try their luck in between meetings, while on the subway, or even waiting for an appointment to begin. Baccarat is very simple to learn and play, so there is no surprise that it has an enormous following. Mobile phone gambling takes digital gaming a step further and allows people to hone their skills from nearly anywhere in the world.