This August, the most advanced gambling platform for mobile phones has gone live and ready to be enjoyed by everyone with iPhones and iPads. Every Apple mobile device owner who loves to play online casino games have been gearing for the coming of the HTML 5 casino, the newest mobile gambling platform for all mobile Apple devices. Apple has indeed conquered the market for mobile technology and it is only fitting to keep up with their technology and bring out an app that will cater to the needs of the players.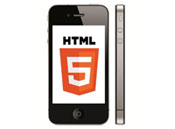 Advanced Casino Technology for Apple Devices
The new mobile casino platform complements Apple's new technology well. It is a lot more advanced compared to the other earlier versions and mobile platforms. With the HTML 5, come 11 of the most popular casino games: roulette, blackjack, and various popular slot games. It also includes a great array of video poker titles. All games on the platform are hosted with download-free access through the Apple device's web browser, so they won't have to worry about downloading it on their devices.
Supported iOS Versions and Devices
Although the platform is really a web application, it actually performs as a native iPhone or iPad app, which is a lot more convenient than other web applications are. It supports various Apple mobile devices and operating systems. Players can use it with their devices that run on iOS 4, 4.x, 5 and 5.x. Those who use the iPad 1 and 2, the platform will have to run on a screen resolution of 1024 by 768 pixels. For the new iPad 3, it runs on a screen resolution of 2048 by 1536 pixels. Players can also use their iPhone 4 and 4S for this new app.
Casino

Features

Software

Review

Visit
FREE €/$/£10 No Deposit Bonus
Flawless reputation
Top-notch HTML5 version
Over 20+ casino games
Best mobile progressive slots
Superb support
Touchscreen Technology at Its Finest
Compared to other mobile devices, this new platform works well if what the person needs is ease of use. The secret lies on touchscreen technology that makes every gaming experience a lot easier. This platform also has several different features that are similar to a real casino. Players can access these features and game settings with a quick touch or a swipe from left to right for game settings.
Maximised Game Views for Optimal Enjoyment
Accessing paytable and game rules are also as easy as accessing the game settings. With a swipe from right to left, the player can see the paytable for the game and review all the rules of the game. So, players will see that much of the display from earlier web applications have changed. Features that used to take up much of the screen space are now accessed through swiping their finger so they can maximise the game view and enjoy their game fully.
Users of the iPhone and iPad can now use one highly advanced platform without looking for other platforms anymore. All players looking for the newest version will be led to the HTML 5 casino site, which to their delight will offer them a seamless platform for their maximum enjoyment. Those whose Apple mobile devices do not support the new site will be directed to the older web application. They can also contact the developer if they want more information about the new web application.
HTML5 mobile casinos we recommend: