How Betting on Mobile Phones Works
When it comes to placing wagers and monitoring the odds for their favorite sports bets, mobile sports betting has given individuals even more flexibility. From football to horse racing, fans have been gambling on the outcome of a variety of sports for centuries. Today, with online bookmakers and casinos – along with a collection of mobile apps designed for each – it is easy for both new and seasoned gamblers to keep up with the action anytime, from anywhere.
Many people are already familiar with online sports betting. Sportsbooks are available around the world and offer the ability to place bets on a variety of different sports, including basketball, soccer, cricket, and much more. These websites allow people to browse the available wagers and review their odds, as well as deposit funds and place bets on their predicted outcome. When a person places a winning bet, the sportsbook deposits the profit back into the player's account. A percentage of the winnings are usually deducted as a commission to the bookmaker.
Betting on the Go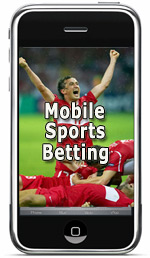 To meet the demands and expectations of the online gambling community, most casinos and bookies offer applications for mobile devices so that customers can still access their accounts when they're away from a computer. Mobile casino and gambling apps are downloaded onto the user's cell phone or other supported mobile device. With the app installed, individuals can enjoy the features of their favorite gambling website with the added convenience of accessibility on the go.
Getting Started
Mobile sports betting is very similar to placing bets through an online bookmaker. Individuals who already have an account with a reputable sportsbook can typically just install the app and sign into their account with the same username and password that they use online. Those who are new to sports betting only need to set up an account to get started. This can be done through the mobile device with many apps, but it is often easier for the player to set up their account from their home computer. Either way, it only takes seconds to join the action.
Making Deposits
Aside from setting up an account with an online sportsbook or casino, individuals will also need to fund their accounts before placing any wagers. Some mobile apps will allow players to make deposits using their cell phones or tablet PCs, but again, it is usually easier to do this from a home computer. Once the account has the minimum funds required by the casino, a person can use his or her phone to review the current odds, place bets, monitor the results, and hopefully win big.
The Best Mobile Betting Sites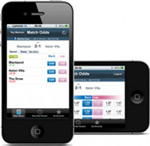 Not all online bookmakers offer apps for mobile betting, but there are dozens that do, as well as a number of casinos that offer sports betting and access to a variety of games for an exciting mobile gambling experience. Depending on the country that the gambling website is licensed through, there may be restrictions on who can set up an account and the currency used. Be sure to read the terms and conditions before choosing a mobile bookmaker. Also keep an eye out for bonuses that sportsbooks may offer to mobile sports players. Advancements in technology continue to make gambling even more exciting and convenient for the players who enjoy it. Mobile betting and casino apps are obvious proof.
We recommend the following mobile bookmakers: